Featured Vacation Rental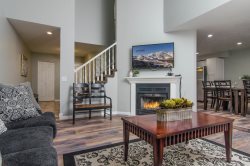 Oaks at Wasatch, Cottonwood Heights Ski and Summer Vacation Townhome
view Utah vacation homes for sale
GUEST REVIEWS
"The service level of the team at Utah's Best made an impact as they not only gave us their utmost attention, especially in the planning stage before we arrived, but surpassed our expectations when we stepped foot in the property. This was a first time visit to Salt Lake City and the activities and attractions that they uncovered for us were remarkable...it was evident they listened to our interests as the property was a perfect fit...we can't wait to return! -Sharon C. (1/31/14)

"We had the time of our lives over the weekend. Your home was by far the biggest, nicest, and most beautiful home we've ever stayed in. My kids loved the game and theater room, and my wife loved the enormous kitchen. The customer service we received was the icing on the cake."
-Cody D. (5/2/13)
"We loved our ski vacation in Utah. We loved the quality and location. We were very satisfied with the kitchen supplies, comfortable living room furnishings, and the cleanliness was fantastic."
-Ken P. (2/19/13)


More guest reviews >>
Looking for a Salt Lake City furnished extended stay rental home? These furnished rental homes are available for rent for extended stays. Our furnished rental homes are equipped with furniture/decor, linens and bedding, kitchen supplies, flatscreen TVs, satellite TV and WIFI. Perfect for extended stay housing, corporate housing, corporate rentals, or relocation housing. Renting a furnished rental home in Salt Lake City for an extended period of time gives you flexibility, more comfort, private amenities and a huge cost savings. These SLC extended stay rentals are located in Salt Lake City and are furnished and move-in ready.

Salt Lake City furnished rental homes for rent for extended stay housing. Utah's Best Vacation Rentals in Utah (UBVR) offers some of Salt Lake City's best fully furnished and decorated home rentals for an extended stay for business, relocations, corporate housing and more. We have some of Utah's nicest homes for rent that offer space, amenities, value, comfort and more unlike any other rental home company in SLC, UT.

It's difficult to find move-in ready Salt Lake furnished rentals that will accommodate month to month or longer extended stays. Pet friendly SLC extended stay homes available, as well as long-term furnished homes in Spring and Fall months of the year. Some of our SLC extended stay rental homes even have swimming pools, hot tubs, game rooms, movie theaters and more, making them great homes to rent for families in between homes who need a fully equipped, move-in ready furnished rental home for an extended period of time.

Give us a call today with your housing needs and we will accommodate you in our beautiful rental homes in Salt Lake City, Utah for your next extended stay.

If you're planning a vacation to Salt Lake City or Park City with the family, or a family reunion and need a short-term Salt Lake City vacation home rental, we provide properties near SLC, UT and the Cottonwood Canyons. These homes and condo rentals are ideal for skiing at places such as Alta, Snowbird, Solitude, and Brighton. We also offer downtown Salt Lake homes here.

Looking for other vacation homes available nearby Salt Lake City, UT? Homes also available in and near Park City, Cottonwood Heights, Alta/Snowbird, Brighton/Solitude, downtown Salt Lake, Murray, Draper, Sandy, Herriman, Riverton, and Lehi in Utah valley.
Oaks at Wasatch, Cottonwood Heights Ski and Summer Vacation Townhome

Beautiful 4 bedroom Cottonwood Heights vacation home at the Oaks at Wasatch. Located off Wasatch Blvd. between Big and Little Cottonwood Canyons; home......

Property Code: #33: Oaks at Wasatch Ski and Summer Townhome

Bedrooms: 4 | Bathrooms: 3 | Max Occupancy: 12

Location: Greater Salt Lake Area

Pets Allowed: No

Nightly Rate Starting At: $199.95
Riverview, Murray Utah Executive Rental Home

*Minimum 30 day rental Newly remodeled 6 bedroom vacation home and executive rental located in Murray, Utah on private cul-de-sac. Enjoy convenien......

Property Code: #29: Riverview

Bedrooms: 6 | Bathrooms: 3.5 | Max Occupancy: 16

Location: Greater Salt Lake Area

Pets Allowed: Yes

Nightly Rate Starting At: $249.95
South Towne Condo, Sandy Utah Vacation Condo and Apartment

Beautiful ground-level Sandy Utah vacation condo located minutes to Rio Tinto Soccer Stadium, South Towne Mall, South Towne Expo Center, Jordan Common......

Property Code: #27: South Towne Condo

Bedrooms: 2 | Bathrooms: 2 | Max Occupancy: 4

Location: Greater Salt Lake Area

Pets Allowed: No

Nightly Rate Starting At: $99.95
Downtown Twin Home, Downtown Salt Lake City Vacation Home Duplex Near University

Perfect Salt Lake vacation home duplex in Sugarhouse located within minutes to University of Utah, Salt Palace Convention Center, Huntsman Cancer Inst......

Property Code: #18: Downtown Twin Home

Bedrooms: 6 | Bathrooms: 4 | Max Occupancy: 24

Location: Greater Salt Lake Area

Pets Allowed: No

Nightly Rate Starting At: $359.95
Majesty Cove Mansion., a Luxury Millcreek Vacation Rental Home Near Salt Lake

Available for 30+ day monthly rental or longer for extended stays as an executive home or corporate housing. Nicest luxury vacation home in Millcr......

Property Code: #01: Majesty Cove Mansion.

Bedrooms: 9 | Bathrooms: 6 | Max Occupancy: 25

Location: Greater Salt Lake Area

Pets Allowed: No

Nightly Rate Starting At: $649.95
Riviera Retreat Estate., a Luxury Salt Lake Vacation Home

Our most popular luxury 6 bedroom luxury vacation home in Murray, UT! Located minutes to downtown Salt Lake City and Big Cottonwood Canyon ski areas S......

Property Code: #04: Riviera Retreat Estate.

Bedrooms: 6 | Bathrooms: 3.5 | Max Occupancy: 20

Location: Greater Salt Lake Area

Pets Allowed: Yes

Nightly Rate Starting At: $399.95
White Cliff Home, Remodeled Millcreek Utah Vacation Home

Newly remodeled Millcreek vacation home with gorgeous interior, updated kitchen, bathrooms, flooring, and furniture. Located in beautiful Millcreek su......

Property Code: #35: White Cliff Home

Bedrooms: 3 | Bathrooms: 3 | Max Occupancy: 12

Location: Greater Salt Lake Area

Pets Allowed: No

Nightly Rate Starting At: $149.95
Cottonwood Cove Unit #2

**NEW PROPERTY MINUTES TO BIG COTTONWOOD CANYON!** Be within a short drive to Solitude, Alta, Snowbird, and Brighton ski and summer resorts and endle......

Property Code: #25: Cottonwood Cove Unit #2

Bedrooms: 4 | Bathrooms: 2 | Max Occupancy: 11

Location: Greater Salt Lake Area

Pets Allowed: No

Nightly Rate Starting At: $229.95
Chic Royale., a Luxury Vacation Home Rental in Holladay, UT

Gorgeous contemporary luxury Holladay vacation home rental near Big and Little Cottonwood Canyons minutes to Solitude, Brighton, Snowbird, and Alta sk......

Property Code: #07: Chic Royale.

Bedrooms: 4 | Bathrooms: 3 | Max Occupancy: 20

Location: Greater Salt Lake Area

Pets Allowed: Yes

Nightly Rate Starting At: $299.95
Cottonwood Cove Duplex, Cottonwood Heights Vacation Duplex

Large 7 bedroom Cottonwood Heights vacation duplex minutes to Big and Little Cottonwood Canyons skiing and world-class Utah outdoor recreation year ro......

Property Code: #26: Cottonwood Cove Duplex

Bedrooms: 7 | Bathrooms: 4 | Max Occupancy: 23

Location: Greater Salt Lake Area

Pets Allowed: No

Nightly Rate Starting At: $322.95
Provo BYU Home, a Large Family Vacation Home in Provo, UT

Visit Provo! Enjoy a family reunion, group retreat, or BYU football game. Provo also offers great golf, skiing at Sundance, mountain biking, boating a......

Property Code: #36: Provo BYU Vacation Home at BYU

Bedrooms: 6 | Bathrooms: 4 | Max Occupancy: 23

Location: Provo

Pets Allowed: No

Nightly Rate Starting At: $299.95