Featured Property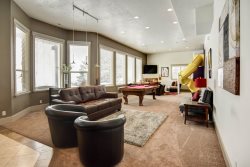 Canyonside Retreat, Luxury Mountainside Salt Lake Ski Vacation Home
Video Testimonial
Buy a Vacation Home


Guest Reviews
"The entire experience was enjoyable--from the reservation to the house. The kitchen was a great gathering place..."
- Reed (May 2017)
stayed in Majesty Cove Mansion
"

UBVR has excellent customer service! We have stayed in other ones before - this was quite nice."
- Richard (May 2017)
stayed in Paradise Village #5 Red Mountain Retreat
"We discovered UBVR several years ago, and have stayed with them for the last 9-10 years..The homes we've stayed in over the years have always accommodated our group of women well and been so nice. Highly recommend!"
- Ethel (May 10, 2017)
stayed in Cottonwoods Estate
"We had the time of our lives over the weekend. Your home was by far the biggest, nicest, and most beautiful home we've ever stayed in. My kids loved the game and theater room, and my wife loved the enormous kitchen. The customer service we received was the icing on the cake."
- Cody D. (5/2/13)
"We loved our ski vacation in Utah staying with UBVR. We loved the quality and location. We were very satisfied with the kitchen supplies, comfortable living room furnishings, and the cleanliness was fantastic."
- Ken P. (February 2013)
Read more guest reviews >>
Visit our southern Utah website

Paradise Village awarded "Best of State" 2 years running
Available Properties
Loading Available Properties
Flexible Dates? View other Properties close to your Date Range.
Available
Unavailable
Check-in
Check-out
Not finding what you're looking for?