Featured Vacation Rental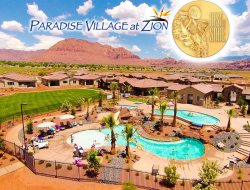 Paradise Village at Zion, a Vacation Home Village Community in St. George, UT
view Utah vacation homes for sale
GUEST REVIEWS
"The service level of the team at Utah's Best made an impact as they not only gave us their utmost attention, especially in the planning stage before we arrived, but surpassed our expectations when we stepped foot in the property. This was a first time visit to Salt Lake City and the activities and attractions that they uncovered for us were remarkable...it was evident they listened to our interests as the property was a perfect fit...we can't wait to return! -Sharon C. (1/31/14)

"We had the time of our lives over the weekend. Your home was by far the biggest, nicest, and most beautiful home we've ever stayed in. My kids loved the game and theater room, and my wife loved the enormous kitchen. The customer service we received was the icing on the cake."
-Cody D. (5/2/13)
"We loved our ski vacation in Utah. We loved the quality and location. We were very satisfied with the kitchen supplies, comfortable living room furnishings, and the cleanliness was fantastic."
-Ken P. (2/19/13)


More guest reviews >>
Salt Lake City, Utah
Salt Lake City view from Ensign Peak in foothills above Utah State Capital
Community Information:
---
Looking to stay in Salt Lake City, Utah? We offer some of the best accommodations available in the valley. Renting a vacation home in Salt Lake City is a fantastic choice for many reasons. Salt Lake City Vacation Rentals and HomesLocated within 30 minutes to Snowbird, Alta, Solitude, and Brighton resorts, you can ski in the morning, go to a movie in the afternoon, and return to your vacation home for a family barbecue all in one day. Not to mention you avoid the crowds at the resorts and getting stuck in the canyon. Also, renting a Salt Lake City vacation home is the best way to save & get better quality lodging while being close to downtown as well as the ski resorts. (After all, Utah does have the 'Greatest Snow on Earth'). Our homes sleep more than other lodging companies and provide a much better value.


Directions:
---
Distance from Downtown Salt Lake Areas
Temple Square - considered Salt Lake's city center
City Creek Center Mall - walking distance from city center
Convention District - walking distance from city center
Financial District - 2 minute drive from city center
Historic District - 5 minute drive from city center
West Side / Rose Park District - 5 minute drive west from city center
University of Utah District - 7 minute drive from city center
Capitol Hill / The Avenues / Federal Heights - 8 minute drive from city center
University Foothills - 10 minute drive from city center
Sugarhouse - 12 minute drive from city center
Sugarhouse Foothills - 13 minute drive from city center
Canyon Rim Area - 15 minute drive from city center


Emigration Canyon Area
University Foothills - 10 minute drive from city center
University Research Park, Hogle Zoo, and This is the Place Heritage Park - 12 minute drive from city center


Midvalley Salt Lake Area
Murray - 10 minute drive south from city center
Midvale - 13 minute drive south from city center


Big Cottonwood Canyon Area near Solitude and Brighton
Millcreek / Olympus Cove / Mount Olympus - 15 minute drive southeast from city center
Holladay - 16 minute drive southeast from city center
Cottonwood Heights - 20 minute drive southeast from city center
Brighton/Solitude Area - 25 minute drive from city center


Little Cottonwood Canyon Area near Snowbird and Alta
Cottonwood Heights - 20 minute southeast from city center
Sandy- 22 minute drive south from city center
Alta/Snowbird Area - 30 minute drive from city center


Southwest Salt Lake Area
South Jordan / Daybreak - 25 minute drive southwest from city center
Riverton - 25 minute drive southwest from city center
Herriman - 30 minute drive southwest from city center
Bluffdale - 35 minute drive southwest from city center
Map:
---
Community Vacation Homes:
South Towne Condo, Sandy Utah Vacation Condo and Apartment

Beautiful ground-level Sandy Utah vacation condo located minutes to Rio Tinto Soccer Stadium, South Towne Mall, South Towne Expo Center, Jordan Common......

Property Code: #27: South Towne Condo

Bedrooms: 2 | Bathrooms: 2 | Max Occupancy: 4

Location: Greater Salt Lake Area

Pets Allowed: No

From: $99.95
Union Pines Home, Midvale Vacation Home Near Big Cottonwood Canyon

Beautiful Midvale vacation home located minutes to Big Cottonwood Canyon. Located off Fort Union Blvd walking distance to public ski bus stop, endless......

Property Code: #20: Union Pines Home

Bedrooms: 3 | Bathrooms: 2.5 | Max Occupancy: 10

Location: Greater Salt Lake Area

Pets Allowed: No

From: $199.95
Union Cove Home, Midvale Vacation Home Near Big Cottonwood Canyon

Beautiful Midvale vacation home located minutes to Big Cottonwood Canyon. Located off Fort Union Blvd walking distance to public ski bus stop, endless......

Property Code: #22: Union Cove Home

Bedrooms: 3 | Bathrooms: 2.5 | Max Occupancy: 13

Location: Greater Salt Lake Area

Pets Allowed: No

From: $199.95
Trolley Heights, Downtown Salt Lake City Vacation Home

Charming 3 bedroom downtown Salt Lake City vacation home located in the historic University of Utah district walking distance to Trolley Square, 400 S......

Property Code: #15: Trolley Heights

Bedrooms: 3 | Bathrooms: 2 | Max Occupancy: 12

Location: Downtown Salt Lake

Pets Allowed: Yes

From: $159.95
White Cliff Home, Remodeled Millcreek Utah Vacation Home

Newly remodeled Millcreek vacation home with gorgeous interior, updated kitchen, bathrooms, flooring, and furniture. Located in beautiful Millcreek su......

Property Code: #35: White Cliff Home

Bedrooms: 3 | Bathrooms: 3 | Max Occupancy: 12

Location: Greater Salt Lake Area

Pets Allowed: No

From: $149.95
Union Park Home, Midvale Vacation Home Near Big Cottonwood Canyon

Beautiful Midvale vacation home located minutes to Big Cottonwood Canyon. Located off Fort Union Blvd walking distance to public ski bus stop, endless......

Property Code: #19: Union Park Home

Bedrooms: 3 | Bathrooms: 2.5 | Max Occupancy: 10

Location: Greater Salt Lake Area

Pets Allowed: No

From: $199.95
Sugarhouse Square, a South Salt Lake Vacation Home Near Sugarhouse

Comfortable 4 bedroom, 3 bathroom South Salt Lake vacation home located minutes to historic downtown Sugarhouse district and just 10 minutes to Salt P......

Property Code: #11: Sugarhouse Square

Bedrooms: 4 | Bathrooms: 3 | Max Occupancy: 12

Location: Downtown Salt Lake

Pets Allowed: No

From: $175.95
Pines/Park Duplex, Large Midvale Utah Vacation Home Duplex

Beautiful Midvale vacation duplex / twin home located minutes to Big Cottonwood Canyon. Unbeatable centralized location off Fort Union Blvd (hub of Sa......

Property Code: #21: Park/Pines Duplex

Bedrooms: 6 | Bathrooms: 5 | Max Occupancy: 22

Location: Greater Salt Lake Area

Pets Allowed: No

From: $359.95
City Creek Villa, a Luxury Downtown Salt Lake City Vacation Rental Home

Gorgeous luxury vacation rental home in downtown Salt Lake City near City Creek Center, Temple Square, and Salt Palace Convention Center. Complete......

Property Code: #02: City Creek Villa

Bedrooms: 6 | Bathrooms: 6 | Max Occupancy: 20

Location: Downtown Salt Lake

Pets Allowed: No

From: $499.95
Union Cove Tri-Plex, 3 Midvale Utah Vacation Homes

Accommodate groups of 35, be together, but enjoy privacy when renting these 3 Midvale vacation homes (Tri-Plex) located all next door to each next doo......

Property Code: #23: Union Cove Tri-Plex

Bedrooms: 9 | Bathrooms: 7.5 | Max Occupancy: 35

Location: Greater Salt Lake Area

Pets Allowed: No

From: $539.95